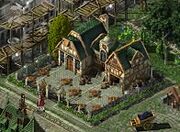 The
Tavern
is one of the
buildings
in a city. It is mainly used to recruit a
Hero
. Upgrading the Tavern gives a chance at better heroes, and shortens the time that
Random Requests
will take to re-appear.
The Tavern offers a list of 5 heroes. To get a famous hero, i.e. one that was advertised in the Hall of Fame, the list may have to be refreshed several times.
Upgrade Requirements
Edit
Each upgrade level of the Tavern requires you to already have a City Hall at the same upgraded level.
Construction time may vary between players, depending on their Construction Level and Political Points.
| # | Timber | Stone | Iron |
| --- | --- | --- | --- |
| lv1 | 2 | 2 | 2 |
| lv1->lv2 | 5 | 4 | 4 |
| lv2->lv3 | 7 | 6 | 6 |
| lv3->lv4 | 10 | 8 | 8 |
| lv4->lv5 | 21 | 16 | 16 |
| lv5->lv6 | 55 | 44 | 44 |
| lv6->lv7 | 175 | 140 | 140 |
| lv18->lv19 | 8885 | 7108 | 7108 |
| lv19->lv20 | 10660 | 8528 | 8528 |
| lv20->lv21 | | | |
| lv21->lv22 | 15350 | 12280 | 12280 |
| lv22->lv23 | 18420 | 14736 | 17736 |
| lv23->lv24 | 22105 | 17684 | 17684 |