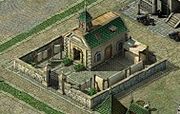 The Pharmacy can be built once in a military Satellite. It increases the bandage capacity of the Apothecary.
Each upgrade level increases bandage storage by 10.
Upgrade Requirements
Edit
Each upgrade level of the Pharmacy requires you to already have a Military Center at the same upgraded level.
Construction time may vary between players, depending on their Construction Level and Political Points.
| # | Timber | Stone | Iron |
| --- | --- | --- | --- |
| lv14->lv15 | 4653 | 1551 | 7755 |
| lv15->lv16 | 6699 | 2233 | 11165 |
| lv17->lv18 | 11319 | 3773 | 18865 |
| lv19->lv20 | 15120 | 5040 | 25200 |