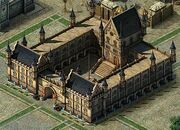 A
Military Center
is automatically placed in the middle of a military
Satellite
. It works similar to a
City Hall
, upgrading it allows to further upgrade the buildings in the Satellite.
Each upgrade level increases base Military Points by 1.
Upgrade Costs
Edit
For each upgraded level, you must first have the City Hall upgraded to the corresponding level. Construction time may vary between players, depending on their Construction Level and Political Points.
| # | Timber | Stone | Iron |
| --- | --- | --- | --- |
| lv1->2 | 3 | 3 | 4 |
| lv2->3 | 4 | 4 | 6 |
| lv3->lv4 | 12 | 12 | 16 |
| lv4->lv5 | 31 | 31 | 42 |
| lv5->lv6 | 60 | 60 | 80 |
| lv6->lv7 | 156 | 156 | 208 |
| lv7->lv8 | 240 | 240 | 320 |
| lv8->lv9 | 330 | 330 | 440 |
| lv9->lv10 | 873 | 873 | 1164 |
| lv10->lv11 | 1212 | 1212 | 1616 |
| lv11->lv12 | 1857 | 1857 | 2476 |
| lv12->lv13 | 2448 | 2448 | 3264 |
| lv13->lv14 | 4182 | 4182 | 5576 |
| lv14->lv15 | 4653 | 4653 | 6204 |
| lv15->lv16 | 6699 | 6699 | 8932 |
| lv18->lv19 | 12600 | 12600 | 16800 |
| lv19->lv20 | 15120 | 15120 | 20160 |
| lv20->lv21 | | | |
| lv21->lv22 | | | |
| lv22->lv23 | 26127 | 26127 | 34836 |
| lv23->lv24 | 31350 | 31350 | 41800 |
| lv24->lv25 | 37623 | 37623 | 50164 |