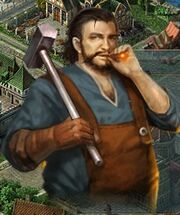 The
Blacksmith
is an NPC who can be seen roaming the streets of a city once a
Smithy
has been built. 
When interacted with, he gives the following advice:
"A hero's growth rate determines how much their attributes increase when they level up."
"Having a full set of equipment can greatly increase a hero's performance. "
"My Lord, don't fotget to visit the smithy if you need to buy or sell equipment."
"If you gather enough rare equipment fragments, you can combine them together to create the corresponding item."
Ad blocker interference detected!
Wikia is a free-to-use site that makes money from advertising. We have a modified experience for viewers using ad blockers

Wikia is not accessible if you've made further modifications. Remove the custom ad blocker rule(s) and the page will load as expected.