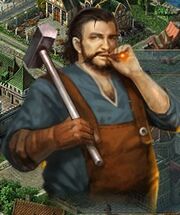 The
Blacksmith
is an NPC who can be seen roaming the streets of a city once a
Smithy
has been built. 
When interacted with, he gives the following advice:
"A hero's growth rate determines how much their attributes increase when they level up."
"Having a full set of equipment can greatly increase a hero's performance. "
"My Lord, don't fotget to visit the smithy if you need to buy or sell equipment."
"If you gather enough rare equipment fragments, you can combine them together to create the corresponding item."