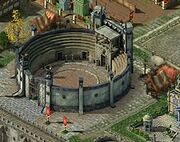 The
Arena
is one of the
buildings
in a city. It is always located in a fixed spot in the left corner.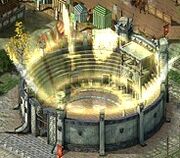 In the Arena, players can fight against non-human opponents. With each round, they will get stronger. After each round, there is a short cooldown time until the next round can be tackled. It is possible to fight automatically up to a specific round. This is helpful when players have already determined at what round they are no longer able to win. For each 10 rounds, there is a good chance to receive a gem. The Arena can be challenged twice a day for free, automatic fighting helps players farm those diamonds whithout having to manually start each fight.
After an Arena fight, players may have to heal their heroes with the help of the Apothecary.
Arena Hero EXP gain for level:
| Level | EXP gain | EXP total |
| --- | --- | --- |
| 1 | 210 | 210 |
| 2 | 224 | 434 |
| 3 | 238 | 672 |
| 4 | 252 | 924 |
| 5 | 280 | 1204 |
| 6 | 308 | 1512 |
| 7 | 336 | 1848 |
| 8 | 364 | 2212 |
| 9 | 392 | 2604 |
| 10 | 420 | 3024 |
| 11 | 434 | 3458 |
| 12 | 448 | 3906 |
| 13 | 462 | 4368 |
| 14 | 476 | 4844 |
| 15 | 490 | 5334 |
| 16 | 504 | 5838 |
| 17 | 532 | 6370 |
| 18 | 560 | 6930 |
| 19 | 588 | 7518 |
| 20 | 616 | 8134 |
| 21 | 658 | 8792 |
| 22 | 700 | 9492 |
| 23 | 770 | 10262 |
| 24 | 840 | 11102 |
| 25 | 910 | 12012 |
| 26 | 980 | 12992 |
| 27 | 1050 | 14042 |
| 28 | 1120 | 15162 |
| 29 | 1190 | 16352 |
| 30 | 1260 | 17612 |
| 31 | 1400 | 19012 |
| 32 | 1540 | 20552 |
| 33 | 1680 | 22232 |
| 34 | 1820 | 24052 |
| 35 | 1890 | 25942 |
| 36 | 1960 | 27902 |
| 37 | 2100 | 30002 |
| 38 | 2240 | 32242 |
| 39 | 2380 | 34622 |